"I was born in a family where new visions and ideas have always been the driving force; IF YOU HAVE A DREAM – THEN GO FOR IT! – MY ART FULFILLS MY DREAM…
With the stressful lives we live in the world today it is important that we once in a while take a break and reflect upon our dreams in life!
We must listen to our burning passions… – My passion is glass art!
From Bøvlingbjerg to …… New York!
My glass art has lead me out in the world and through working with the general consulate in New York I now exhibit in specially chosen design shops and galleries in New York and Chicago."
– Glass artist Agnethe Maagaard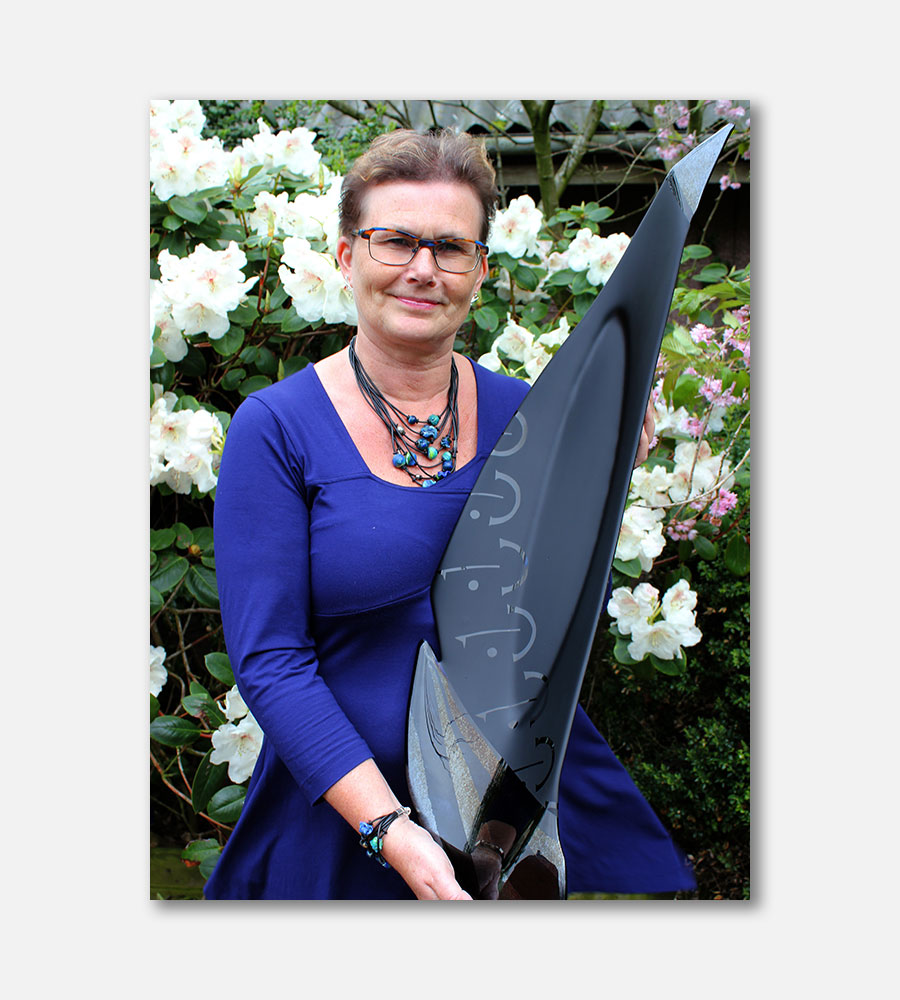 My working method
My material is American artistic glass, Bulls Eye and German artistic glass, Artista. I import the glass in large sheets wich I process with diamond cutter, saw, grinder etc.
During twenty years of experimenting with glass I have developed my own method and form of expression.
I tell a story.
I "paint" with pieces of glass, cut it into shapes and colours and add it to my palette like brusch strokes!
– so all my art pieces is: one-of-a-kind-objects.
2002  Christiansborg, Copenhagen
2003  Lemvig kunstcenter
2006  Georg Jensen Damask, Holstebro
2007  Tårn til tårn – fra Bovbjerg Fyr til Rundetårn, Copenhagen
2007  Møbelmessen i Bellacentret, Copenhagen
2007  Påskeudstilling Kunstfor. Limfjorden
2007  Kunstfor. Halliburton, Stavanger
2007  Art in mind. Kunstmesse i Skagen
2007  Clausager Kunstvirke, Skjern
2007  Brøndsalen, Copenhagen
2007  Georg Jensen Damask, Århus
2007  Herregården Hessel, Hvalpsund
2007  Gimsinghoved Kunst- og Kulturcenter, Struer
2008  Art in Mind, Musikhuset Aarhus
2008  Bovbjerg Fyr
2008  Galleri Amare, Stavanger
2008  Kunstforeningen Halliburton, Stavanger, Norway
2009  Gimsinghoved Kunst- og Kulturcenter, Struer
2009  Galleri Skovhuset
2009  Utopia, Holstebro
2009  Kunstforeningen Limfjorden
2009  Kunstforeningen Cheminova
2009  Løndal Gods, Horsens
2009  Galleri Clausager Kunstvirke, Skjern
2010  Løndal gods, Horsens
2010  Gallery Bloom, New York
2010  Gallery ID, Chicago
2010  Bovbjerg fyr
2010  Galleri Karolines hus, Fur
2010  Galleri Skovhuset, Ålborg
2011  Bovbjerg fyr
2011  Kunstforeningen Brædstrup
2011  Billedværkstedet Venø
2011  Kunstforeningen Fur bryghus
2011  Censureret designmarked DOK1, Ålborg
2012  Cencureret kunstmesse Copenhagen Art Fair
2012  Kunstnergruppen QvadrART Herning
2012  Filosofgangen, Odense
2012  HAUS, Herning
2012  Kunstnergruppen QvadrART Risskov, Århus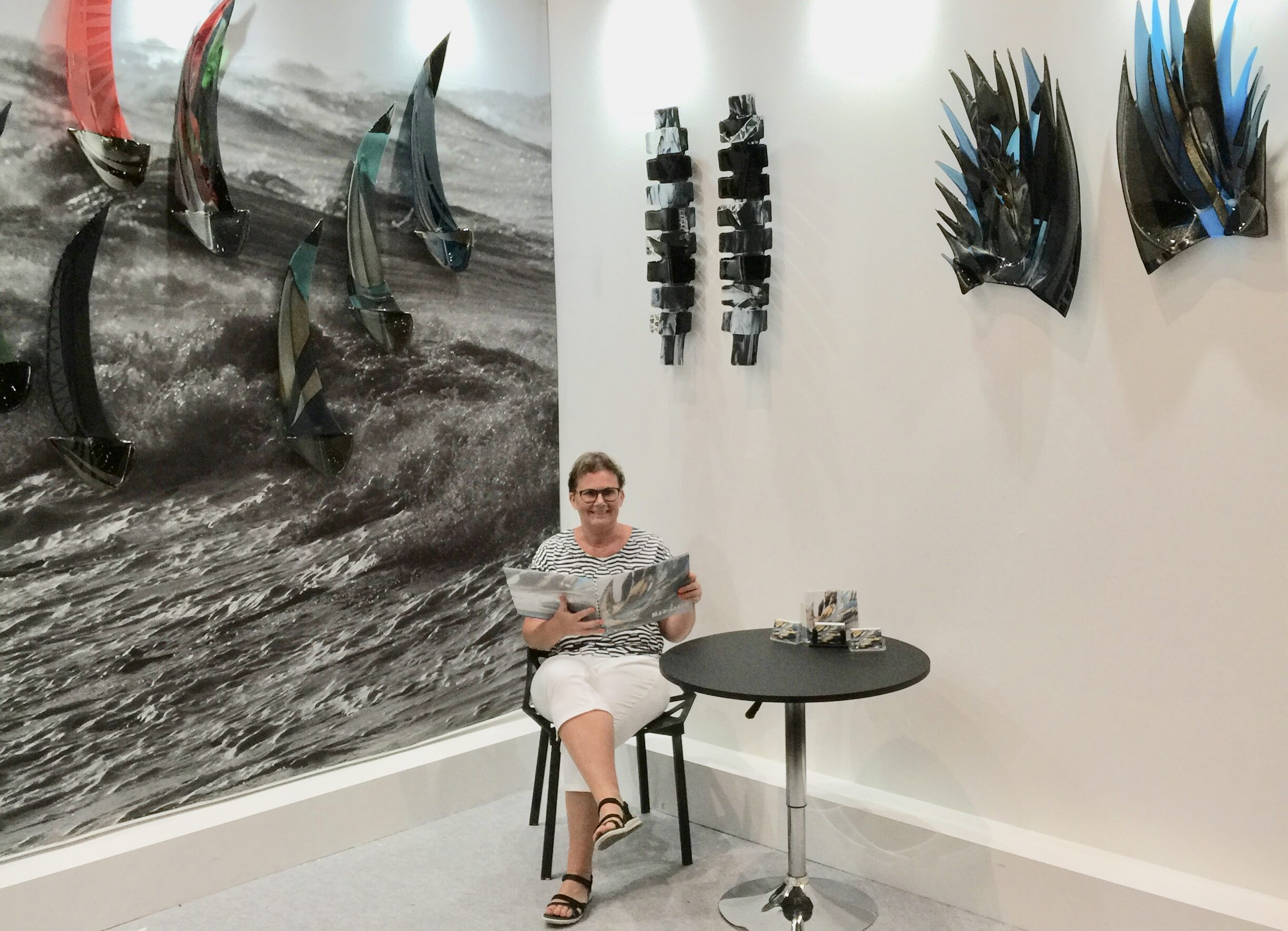 2013  Skæring church, Århus
2013  Påskeudstilling Bovbjerg fyr
2013  Kunstfor. KPMG, Frederiksberg
2013  Kunstfor. Arbejdernes landsbank, Copenhagen
2013  Kunstfor. Codan, Copenhagen
2013  Kunstmesse i Hasseris, Ålborg
2013  Kunstnergruppen QvadrART, Risskov, Århus
2014  Anker Fjord Hospice, Hvide Sande
2014  Bovbjerg fyr
2014  Gallery Harpsoe, Vejle
2015  Lemvig kommune
2015  Tidens Kunst, Års
2016  Room and Art, London
2016  Bovbjerg fyr
2016  Art fair for all, Copenhagen
2016  Kunst i Nørre Halne
2016  Cheminovas kunstforening
2017  World Art Dubai, World Trade Center, Dubai
2017  Finalist in the category of BEST INTERNATIONAL SOLO ARTIST at the World Art Dubai Awards
Statement from director Bjarke Hansen, HAUS, Herning, which has permanent display of Agnethe Maagaards art.
"Personally, I think it's great!"
Bjarke Hansen from HAUS in Herning is excited about Agnethe Maagaard's art.
"It's rare we have contact with the great artists that still lives, the myth is that today artists have died before they could live off their art – Agnethe Maagaard is the exception."
Bøvling – Herning – New York
On the whole, Bjarke Hansen believes that what Agnethe Maagaard has achieved is worth telling about, in connection with the exhibition in New York Agnethe Maagaard put a note on the door in Bøvlingbjerg that anyone interested were welcome at the reception in the United States and to Agnethes surprise 8 people from Lemvig show up on the day!
"She can get people out of the house, from Lemvig to New York!
At times it can be a challenge to get people from the area into Herning, but if Herning is outskirts of Denmark, what then is Bøvlingbjerg? Do we start over?
So mayby we should see the outskirts of Denmark in a slightly different perspective!"
Bjarke Hansen continues, "We think it's fun to have someone from over-the-edge.
Agnethe Maagaard show with her art, her Jutland deliberation and indomitable will and enthusiasm, it's just about moving beyond the curb – to seize the opportunity."
Exhibits at Haus, Herning
Agnethe Maagaard's art is of a quality that matches Haus' other ranges, and Bjarke Hansen explains, "Personally, I think it's great! We would like to help kick it underway. She is part of us and someone we want to support."